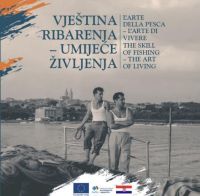 The promotion of the fishing history monograph "The art of fishing - the art of living" will be held on Thursday, October 19 at 7:00 pm in Premantura. The monograph will be presented by the author, Kristina Tamara Franić Kučiš, art historian and ethnologist.
See you this Thursday in Premantura (Selo 120).
The monograph was realized as part of the Medulin Riviera Fishermen Tales project, which was co-financed by the European Union from the European Maritime and Fisheries Fund.