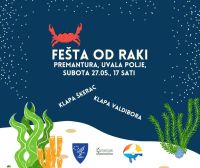 We invite you to join us on Saturday 27.5. in the traditional Crab festival that takes place in Polje bay from 17.00!
Spider crab (Maja squinado) used to be exported, and even Ernest Hemingway praised its taste in Venice. In the past, families filled household budgets by hunting crabs, and it is said that they even fed the chickens with them until they realized that the eggs smelled like fish. All that was once, and what is today? Today, only the festival in Polje bay, which has been held since 1967, is constant, and there is hope that there will be crabs again like in some, they say, better times. And the catch, the catch is good when the sea decides to reward the brave, persistent and determined.
Reward yourself by coming to the festival on Saturday and find out which of the 6 teams will cook the best crab brudet, a dish traditionaly made all along Croatian coastline. You will be entertained by Škerac klapa and Valdibora klapa.
See you from 17.00 in Polje bay!