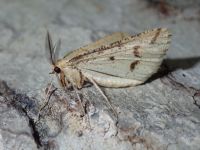 Join us at the traditional Bugs night, which will be held this year in Polje bay on Friday, September 23, starting at 7 p.m.
At this year's event, you can expect the lecture "Fantastic moths and how to find them", which will be held by our long-term associate Dr. sc. Toni Koren, entomologist. At the end of the lecture, you will be looking for moths and other nocturnal insects that will gather on the UV light tents. In addition to an increased dose of knowledge, a prize game awaits you in which you will be able to win a "Nocturnal butterflies of Punta" brochure, a t-shirt and a souvenir.
This time the number of participants is limited, so to participate you must register at goran.stjepic@kamenjak.hr
Join us and enter the world of nocturnal insects!